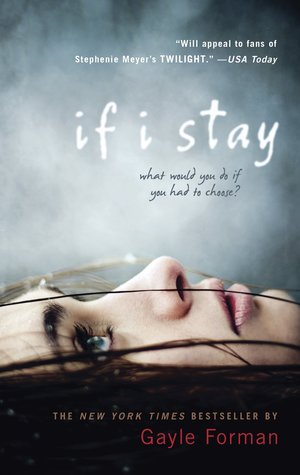 If I Stay
By Gayle Forman
Rate: 3.5 / 5 stars
What I thought:
I liked this book, but I'm a little unsure of it. I had no problems getting through it, but something about it just didn't sit right with me.
Nothing happened. Nothing. The accident happens in the beginning and then, boom. Flat-lined. (No pun intended?)
Sure, I loved the anecdotes. I loved how I came to appreciate and even love each character which every passing memory. But really there was no plot. The themes that I were expecting didn't bleed through, and it left the reading experience a bit dry. I understand that "Ghost" Mia was unfeeling and cut off, but it just didn't work for me.
The book dealt with a very emotional thing, but I felt nothing until the last 5 pages. The only character I ended up feeling anything for was Adam when he poured his heart out at the end. I ultimately had no empathy for the characters.
I liked the story; I liked the characters. I just didn't take anything away from this story. And with this serious of a plot, I expected more. However, I will read the sequel, and I'll probably check out the movie, too.
p.s. I did cry at the end. Those last few pages really did save the book for me.
p.p.s. I've been really critical of books lately. I need something to come along and wow me asap.