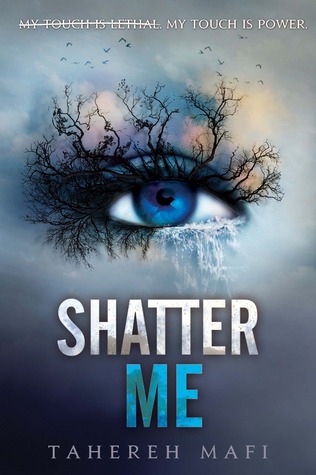 Shatter Me
By Tahereh Mafi
(Book 1 of the Shatter Me trilogy)
Rate: 3.5 / 5 stars
What I Thought:
So this story is totally predictable and cheesy and 100% like every other popular YA dystopian on the market, but I did still enjoy it.
The characters are nothing special, but they're likable enough. I do appreciate Warner's character, he's a good example of a dynamic villain, and I like how his character "plays" with Juliette, the protagonist. However, Juliette is definitely not one of my favorite characters. But that has to do with the writing style more than anything.
To put it bluntly: the writing style reminds me of a try-hard, pretentious teenager writing a #deep story for their creative writing class. It was particularly painful in the first 10 or so chapters, with all the cross outs, run on sentences, and broken phrases. It was killing me. Does Mafi even know how to use commas? Because every single compound sentence was lacking the comma before the conjunction, and it was absolutely tortuous to me. There were so many over-the-top metaphors and descriptions that made the text come off unnecessarily pompous. The writing was not creative and did not add to the richness of the plot; all it did was distract the reader.
The romance was gag-worthy, but I expected it. I also have to admit that I did get swept up in it from time to time. I just love reading about love sometimes, okay? It was a plot point, and it worked well enough, so I can't complain. But yeah it gets goopy at times; be warned.
The whole "special" abilities thing for this story was just okay. I had a lot of questions, but with 2 more novels and a couple of novellas, I hope they're answered. As for now, the whole super power thing is kinda lost on me, but I'm not giving up yet.
Bottom line: Nothing too spectacular about this series thus far. However, the story did intrigue me, and I had an enjoyable experience reading it. I do plan to finish out the series.